Astragraphia Participates in Astra's Education Contribution Program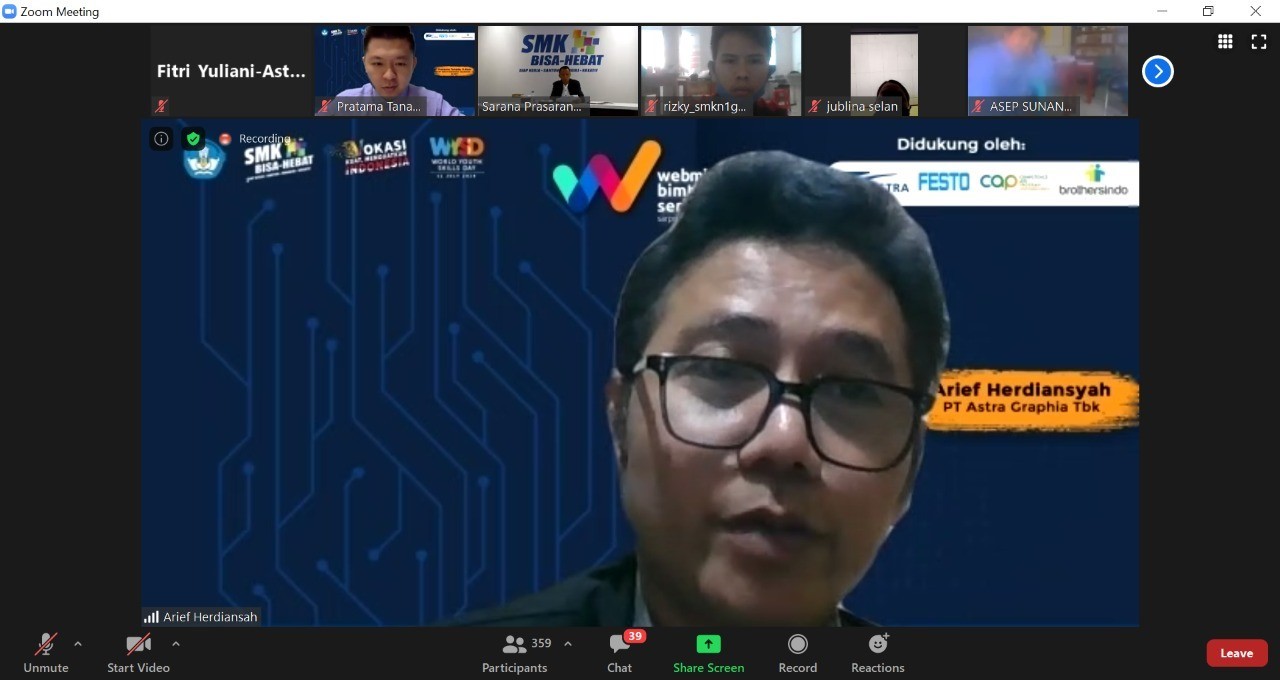 Astragraphia Document Solution - In the era of digital transformation, the people's lifestyle indirectly has to adapt to the various existing technological developments. One aspect that is influencing this digital transformation is the world of education. Astragraphia as one of the leading public companies is moved to take the initiative and commit to improving the quality and advancing education in the country as stated in the culture of values ​​"Valuable to The Nation and Life".
This form of Astragraphia's participation was successfully implemented with the opportunity to participate in the Astra Group's Education Contribution Pillar Program. On August 13, 2020, Astragraphia collaborated with Astra and the Ministry of Education and Culture of the Republic of Indonesia (Kemendikbud RI) to organize a "Bimtek Series Webinar Vocational High School Infrastructure (SMK) which focuses on the theme:" Digitalization of Vocational School Facilities and Infrastructure "
The webinar presented a guest speaker, Mr. Arief Herdiansah, as the Document Management System Product Marketing from PT Astra Graphia Tbk, who is an expert in the field of document management solutions. This informative topic contains the insight that there are criteria for good document management in an agency or institution, which are as follows: documents are neatly stored, easy to find, well classified, and easily depreciated.
Then, how to manage and store documents that are easy and simple and can be done by SMK? With a simple implementation in terms of document storage, Mr. Arief recommends that SMK can use the free feature on document storage on Google Drive. If the SMK wants more complete and capable document storage and management option, you can use an enhanced and paid document storage and management solution option such as Astragraphia's Document Management System. From this need, it can be concluded that the initial steps of digitization within the scope of schools actually already exist, where agencies and companies can start from document management steps.
This series of Vocational School Infrastructure Bimtek Series of Webinars are intended for school principals, teachers, facility & infrastructure managers, as well as vocational high school students throughout Indonesia, with the aim of improving the quality of providing education on professional management of SMK facilities and infrastructure, as well as a forum for discussion for schools and experts in the field of SMK facilities and infrastructure. The implementation of the Bimtek Series Webinar has been going on since July 2020 and will continue until November 2020. The hope is that by holding this webinar, it can provide learning materials to 500 participating vocational teachers. In addition, it can facilitate the teaching and learning process as well as prepare vocational students to be better prepared in facing the world of work. In the future, Astragraphia wants to continue to be involved in various educational programs in the country and teach character based on the noble values ​​of the Indonesian nation that can continue to be our common concern.

Source: ofiskita.com
To be able to stay updated with a series of activities organized by Astragraphia in the future, please visit the documentsolution.com website or contact us by clicking the button below: