Astragraphia Introduces DocuSign to Address the Need for Digital Signatures in Indonesia
Astragraphia Document Solution, 2 November 2020 - Running small, medium to enterprise-scale business activities is becoming more and more accustomed to during a pandemic moment. The trend of digitizing has forced most of us to adapt to new ways of working. Business activities, such as working from home, attending online meetings and seminars, have now been replaced by increasingly popular webinars, new product launches are now even easier by being held virtually and of course, our workplace is slowly transforming into a "Digital Workplace".
To find out how ready your company is in designing a digital workplace, it is necessary to prepare carefully so that work remains comfortable and is not hampered and productivity can increase. One important element is to pay attention to what devices will be used in shaping the digital work environment in your company. Companies with a small or large scale certainly cannot be separated from transactions and documents. So, with the implementation of the work from home policy in an era of all normality, how are the ways to facilitate the settlement of financial transactions, important documents that usually require validation of wet signatures in general?
Based on research from a number of E-Signature service providers located in Jakarta, it is stated that, during the challenge of working from home, there was an increase of 350% in interest and the need for using Electronic Signatures (TTE).
Along with the increasing use of TTE, Astragraphia Document Solution together with one of its portfolios, Enterprise Document Solution (EDS) introduced an electronic signature solution service, namely DocuSign E-Signature. Based on the 2020 Gartner Magic Quadrant, DocuSign itself managed to occupy the top position in the Contract Lifecycle Management (CLM) category. Astragraphia Document Solution as a Preferred Partner of customers in document solutions chose to partner with DocuSign in providing better TTE solution services to our customers, and with the current business model, Astragraphia wants to answer customer needs for a digital work environment. Docusign E-Signature is an electronic signature technology feature that is
* ISO 27001: 2013 certified. DocuSign E-Signature simplifies the agreement process in a transaction. Users can easily upload documents to DocuSign and send them to signers. The signing of documents originating from PCs, Tablets, Smartphones, and others can be done easily and the level of security is guaranteed. Then, the signed documents will be saved and managed on the DocuSign platform. Reporting dashboard provides notification of user-sent envelope status*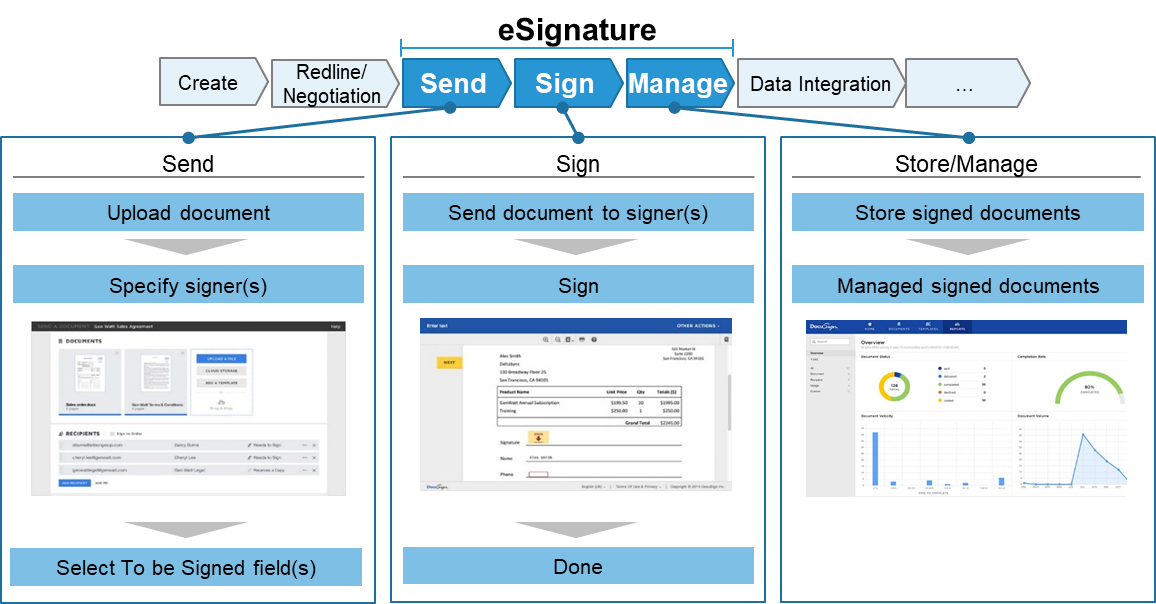 * Note: Envelope is the whole container for DocuSign transactions. The envelope contains one or more documents to be signed electronically regarding information about sender/recipient, timestamps, etc.
* ISO 27001: 2013 - The highest level of certification available today for assuring global information security; SOC 1 Type 2, SOC 2 Type 2 - Provides confirmation of DocuSign's financial and information security controls; PCI DSS - The Payment Card Industry Data Security Standard outlines the security requirements for organizations that process, manage and store cardholder data; Skyhigh CloudTrust - Mandates stringent requirements for the protection, identity verification, and security controls of cloud-based data, based on detailed criteria developed in conjunction with the Cloud Security Alliance.
How can DocuSign E-Signature simplify business operations in your company?
Yulius Gunawan - Enterprise Document Solution - Software and Solution Specialist from PT Astra Graphia Tbk said that DocuSign E-Signature offers flexibility in helping you to legalize your digital signature needs faster. From sales contracts, offer letters to account opening, and invoices. DocuSign E-Signature makes it easy for you to send and sign agreements from anywhere, anytime with a guaranteed level of security because it is certified. In addition, Astragraphia Document Solution hopes to provide customers with a fully digital experience by allowing signers from anywhere, at any time.