Rich Color Ink for Applications in Various Media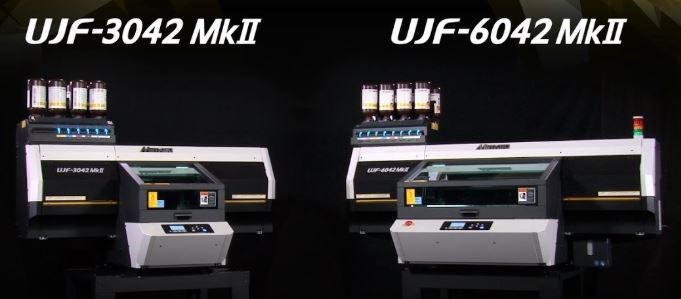 UJF-3042MkII and UJF-6042MkII are sophisticated UV-curable flatbed inkjet printers that are able to create high value-added products, achieve superior productivity because of their print quality, and have the ability to accommodate various forms of application.
• Has a print speed of around 20% faster than conventional printer models
• Is the printer with the best product in its class, which is capable of delivering prints effectively and on-demand
• Sophisticated mechanical structures add value to printed products
• The use of high-quality inks expands the scope of production
• Use of clear ink to represent the texture and to improve the design
- Glossy finish, Matt effect, embossed print
- 129 types of textures
• Mimaki print quality management that uniquely enhances color representation
• The maintenance function ensures print operation without the worry
Here are some types of ink that can be used on Mimaki UJF-3042MkII and UJF-6042MkII. It's no secret that color variations that are rich in products can affect the selling value of a product.
1. LUS-120 ink
The LUS-120 ink can be used when printing on soft material. This ink can stretch up to 170% with beautiful, long-lasting prints on soft materials including leather or polyurethane.
2. LUS-150 ink
The LUS-150 ink has the perfect adhesive ability on various materials. This type of ink can stretch up to 150% and presents a bright color representation. In addition to its use in soft materials, this ink adheres very well to rigid materials such as glass or acrylic. Examples of ideal applications are trophies.
3. LH-100 ink
The LH-100 ink has high scratch resistance, chemical resistance, and has excellent color reproduction. The ideal application is a smartphone case, ignition key made of resin or plastic.
4. Primary PR-200
The PR-200 primer functions as a base paint so the original color will stand out. Primers can be applied to areas needed with inkjet. This feature maintains material texture, which is not possible with manual primary applications. PR-200 can be used on resin, glass, and metal without affecting the texture.

Colorless varnish ink
This varnish technique adds a glossy touch to the desired area and a premium looks to the mold. However, molds with clear ink tend to be destroyed by dust sticking to the ink.
Get further explanation about UJF-3042MkII and UJF-6042MkII by contacting Halo Astragraphia in numbers 1500-345 every Monday - Friday, during business hours (06.00 - 18.00 WIB).