NFC on Your Smartphone can be used for Printing!
Since the beginning until now the name of work activities both commercial and non-commercial such as foundations, cannot be separated from documentation and/or data. Supposing where there is an office, there is definitely a need for documentation. The difference is that documentation in the past has been dominated by print documents because maybe the use of computers has not been as massive as now. Whereas now people used to save all documents in the form of files and stored on a PC, hard drive, to the cloud.
Not to mention the matter of how to print documents that have really changed. In the past to print documents there needed to be a PC connected to a printer to be used together. The file was transferred via USB or email, then printed. With the passage of time and technology, document printing can already be used via a wireless connection from a PC / laptop. So that everyone who has installed the software from the printer machine, can make a print order.
Then what about now? Surely there are many updates from the technology side, which allows a hardware device to have more added value than just a machine for printing, copying and scanning documents. Helping to save expenses and increase productivity are two of them. An easy example is that printing documents can now be done via a smart mobile device (smartphone) equipped with Near Field Communication (NFC). Of course, the printing press used must also be adequate so that the 'connect' between the printing press with a smartphone as an intermediary.
NFC on Android and iOS smartphones basically uses the Radio Frequency Identification (RFID) system to exchange data at close range, which is about 4 inches. The way it works itself is similar to Bluetooth or infrared. You may have used NFC more often to pay for electronic tickets (e-tickets) for public transportation. Now NFC can also be used to print documents more practically when paired with a compatible machine such as the ApeosPort / DocuCentre VII C Series multi-function machine from Fuji Xerox.
As you know, Fuji Xerox's machines are always equipped with technology that prioritizes the needs of its users. And specifically for the multifunction machine ApeosPort / DocuCentre VII C Series, you as a user are increasingly facilitated by the built-in features of Print / Scan by Using NFC.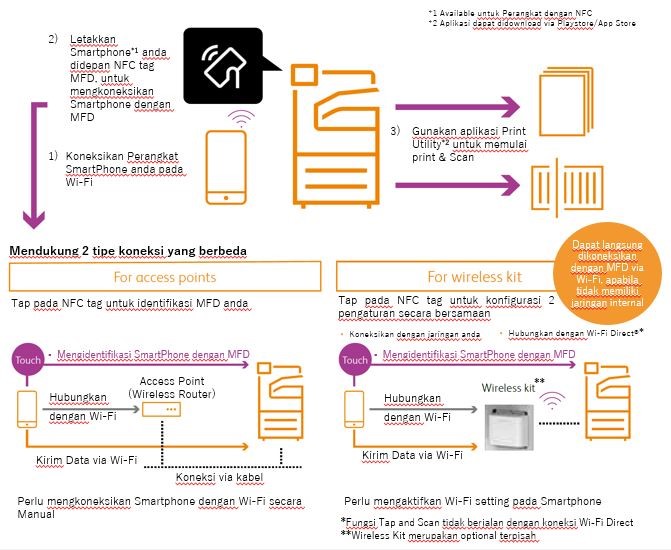 How to operate it is also easy. You can simply bring the NFC-based Android / iOS smartphone in front of the NFC icon on the display panel then run the Print Utility application. By using a Wi-Fi connection, you can print and scan documents directly from a smartphone device.
Regarding this NFC feature, Adam Vrileuis, Enterprise Document Solution Product Marketing of PT Astra Graphia Tbk said that NFC on ApeosPort / DocuCentre-VII Series offers convenience, where users simply attach their smartphone to give work orders to the machine. This machine is also equipped with an enhanced security system to provide more protection for data security both in terms of hardware and software.
The Fuji Xerox ApeosPort / DocuCentre-VII Series color multifunction machine is also an improvement from the previous series, the ApeosPort / DocuCentre-VI Series. Some of the improvements include the NFC (Near Field Communications) feature and a more sophisticated security system that adds value to the MPS (Managed Print Services) solution offered by Astragraphia Document Solution.
The 7 (seven) advantages found in the 12 (twelve) series multifunctional colored machines Fuji Xerox ApeosPort / DocuCentre-VII Series, namely:
1. INTUITIVE DESIGN:
Touch screen and drag and drop menu that can be adjusted according to needs
Gentle Attention Light, helps users to know what work is being done by the machine, including alerting users if there is paper or documents that have not been taken
A soft sound, all machine activity makes almost no sound
2. MOBILE: Fuji Xerox ApeosPort / DocuCentre-VII Series Color Multifunction Photocopy Machine makes it easy for users with the NFC feature, where users simply attach their smartphone to give work orders to the machine
3. WORKFLOW: One-touch scan and share, the machine can scan and share to more than one person at a time on one particular network
4. SECURITY: All data is encrypted and stored properly with the password feature and Trusted Platform Module (TPM) technology
5. SUPPORT: Easy guidance through the screen. On the machine screen, functions have been grouped intelligently by color, allowing easy user recognition.
6. CLOUD: The scanned file can be uploaded to the cloud data.
7. REMOTE: Smartphone users can access the machine with the application "Portable UI" which can be downloaded in the app store or play store. In addition, in one network connection, users can also disable the machine anywhere using only one laptop.
Source:
https://ofiskita.com/articles/detail/astragraphia-document-solution-luncurkan-mesin-multifungsi-fuji-xerox-apeosport-docucentre-vii-series-untuk-dorong-produktivitas-bisnis-perkantoran
https://ofiskita.com/articles/detail/fitur-standar-dengan-hasil-wah
https://www.pricebook.co.id/article/game_apps/2018/08/02/8665/fitur-dan-fungsi-nfc