Mimaki JV150 Series: Sublime Printing with Bright Colors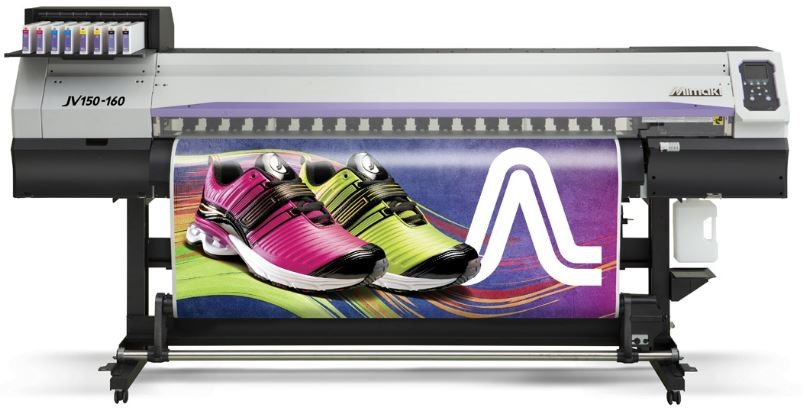 The Mimaki JV150 Series inkjet printer presents a variety of exceptional applications, especially with the use of eco-solvent ink and variable drop technology, which allows you to reproduce fine art and many others. Or you can choose dye sublimation inks to make textiles more vivid; with a supportive design.
• Uninterrupted Ink Supply System
When printing in CMYK, the JV150 Series printer can be configured with two ink cartridges per color using the Uninterrupted Ink Supply System (UISS). This system works in a way when one cartridge is emptied, the printer automatically switches to a fully loaded cartridge to continue the printing process.
• Precise ink placement
Mimaki designs the optimal waveform that allows the print head to spray each color of the ink at the right angle.
• Anti-Appeal Technology
Variable drop printing combined with MAPS3 technology (Mimaki Advanced Pass System 3) ensures accurate and precise print quality during the printing process, reducing the appearance of transverse lines and producing smoother images.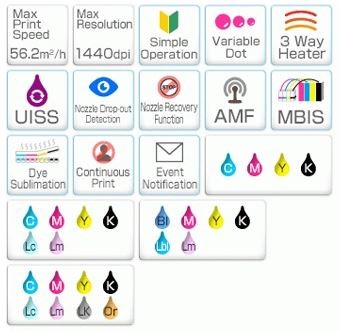 • Drying simultaneously
The patented Mimaki intelligent three-way heating system produces uniform ink drying throughout the printed surface so that image quality is evenly distributed.
1. Pre-heater: Heat the media to optimal temperature before printing
2. Print heater: Dry the ink after printing so it does not overflow
3. Post-heater: Increases ink drying
4. Top blower: Air blower which processes support ink drying.
Mimaki JV150 Series Specifications:
• Printing speeds of up to 605 SqFt (56.2 SqM) per hour
• High-quality print resolution up to 1,440 dpi
• Two models: JV150-130: 53.5 inches (1361 mm)
JV150-160: 63.3 inches (1610 mm)
• 6 choices of dynamic color sublimation ink
• Nozzle Check Unit and Nozzle Recovery System
• UISS and MBIS III optional on board 2 bulk ink systems
• 3-way intelligent heater
Get more information about Mimaki JV150 Series by contacting Halo Astragraphia on number 1500-345 every Monday - Friday, during business hours (6:00 - 18:00 WIB).