Get To Know iCare and Its Benefits for Astragraphia Customers

Astragraphia Document Solution – 2020 will be an unforgettable year for all companies. As the COVID-19 pandemic began to spread, various habits in carrying out daily routines had to change in such away. Business challenges and limited mobility eventually change the customer experience journey. Customers want everything available in a fast, practical, and easy time. In fact, the Customer Experience aspect has become a new focus that is important for companies to pay attention to in presenting a better service experience for customers.
Maybe there are still those who don't know about iCare?
Astragraphia as a leading provider of document solutions in Indonesia, innovates in creating new digital-based service experiences in order to gain higher customer trust (Preferred Partner for Customer). Through iCare, Astragraphia accelerates digital-based services and wants to provide positive benefits for customers throughout Indonesia.

There is good news for Astragraphia People and Customers!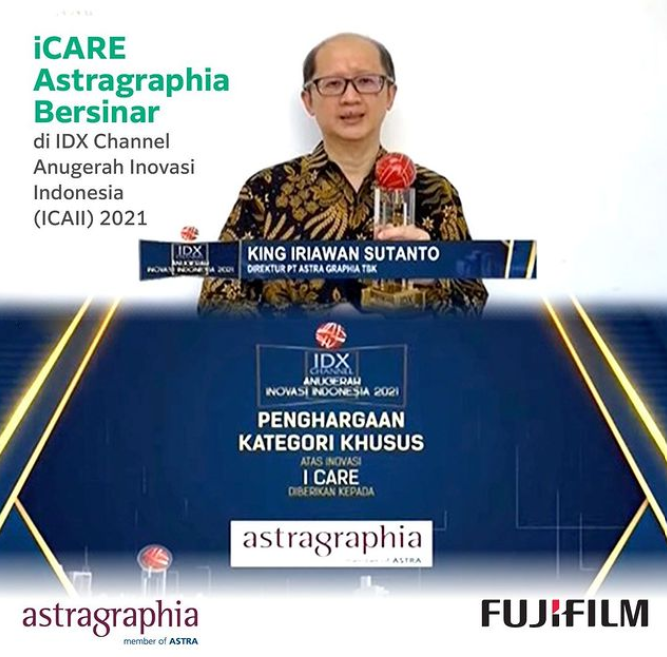 The presence of iCare is an Android-based digital platform has been recognized and appreciated positively by many customers who have used it. Astragraphia received an appreciation award for this iCare innovation, in the special category "Innovative Digital Service Solution" at the IDX ICAII 2021 event.
The iCare application was developed by PT Astra Graphia Tbk throughout 2020 and can be used effectively since February 25, 2021, with the PSE registration number of the Ministry of Communication and Information Technology 000219.01/DJAI.PSE/02/2021.
Astragraphia Document Solution has succeeded in answering the limitations of physically serving customers during the pandemic. Astragraphia generates original ideas in creating added value while complementing the existing service and after-sales service facilities for thousands of customers throughout Indonesia.
Why do customers need to use iCare?
iCare is an Android-based mobile application that can simplify problem-solving escalation, service requests, consumables, machine configuration settings, and service guides for billing meter information needed by all Astragraphia customers throughout Indonesia. With iCare, all customer document matters become easier.
iCare, Smart Care for Astragraphia Customers!
Benefits for customers using iCare?
In the iCare application there are main service features that can be enjoyed and accessed easily by customers via smartphones, such as:
1. Breakfix
For customer service for repair requests on machines.
2. Supplies
As customer service for requests for consumables (Consumables) and spare parts (Spareparts)
3. Install
For customer service for requests for machine configuration settings.
4. Collect Meter (*Additional Features in Latest Version)
For services to request billing meter information that is on the machine for billing.
To find out more iCare information, please visit the site: