Feeding & Finishing Portfolio of Astragraphia Document Solution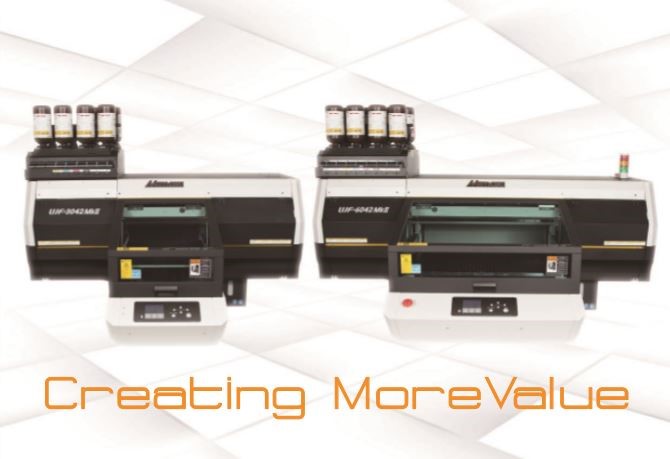 Astragraphia Document Solution in 2019 further expanded its product range by providing feeding and finishing machines, which can be classified into the Press and Post Press categories. In the Press category, available Mimaki output machines that can print on various media, and FujiFilm machines that combine offset printing techniques and digital printing techniques.
While in the Post Press category there are Uchida printing machines commonly used for finishing business cards or greeting cards, and Graphtec for cutting sticker or packaging. The advantage of using this finishing machine besides adding value to a print, it also increases productivity. To know more clearly, see the following explanation.
Press
• Mimaki UJF-3042 MkII
• Mimaki UJF-3042 MkIIEx
• Mimaki UJF-6042 MkII
• Mimaki TS30-1300
• Mimaki JV150-160
• FujiFilm Jet Press 750S
Post press
• Uchida Aerocut One
• Uchida Aerocut Prime
• Graphtec FCX2000
• Graphtec FCX4000
• Graphtec F-Mark for CE6000
Mimaki MkII series
This press machine from the country of Sakura has the advantage of being able to print on various media including glass, wood, iron, plastic, resin, and acrylic. Unique printing techniques on Mimaki machines produce beautiful prints, especially with Mimaki Expand Color which produces bolder colors, while creating a high level of contrast between bright and dark parts.
Mimaki TS30-1300
Sublimation transfer printers with this one entry model are easy to operate and are equipped with a series of carefully selected features. This printer is bundled with RasterLink6 software so that it can be used immediately after installation, and SB54 Mimaki ink, which offers stable ink ejection.
With Mimaki TS30-1300, you can produce a variety of merchandise or souvenirs on request even in low volumes. This printing process does not take much time so you can complete other work at the same time.
Further explanation about feeding & finishing machines will be explained in a different article. Get Mimaki MkII series and Mimaki TS30-1300 by contacting Halo Astragraphia in numbers 1500-345 every Monday - Friday, during business hours (06.00 - 18.00 WIB).