DocumentSolution.com is now more user-friendly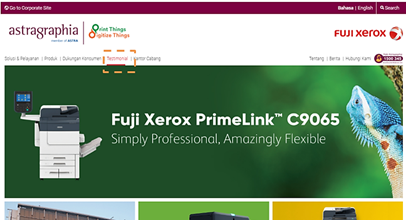 "Start Strong, Finish Faster" became the main focus of Astragraphia Document Solution in 2019. For this reason, Astragraphia continues to develop and improve the customer experience of a digital channel that is more informative and more user-friendly.
Astragraphia has made several improvements to the Astragraphia portfolio website, namely documentsolution.com. Here are the newest features.
"Filter" and "Compare" features
To make it easier to provide an alternative product that is needed, the visitors can take advantage of the "Filter" feature and the "Compare" feature in the same product category. If you choose the "Filter" feature, you can find several suitable product alternatives. While in the "Compare" feature, you will get more detailed information about specifications (copy, print, scan, fax, and other functions) between one product and another product.
The trick is: Click "Product", then select the type of product category you want to visit, then select a maximum of 3 types of products in that category that will be compared to provide a checklist (√) on "Compare" After selecting the three types of products, select "Compare " Then a comparison table of the desired product specifications will appear.
"Testimonial" feature
As a company with a B2B business model, one of the strategies to increase the trustworthiness of prospective customers of Astragraphia Document Solution is to get references on how many products and services that have been used by other customers. The "Testimony" feature contains stories of customer satisfaction from products and solutions offered by AGDS.
You can find out the stories of Astragraphia Document Solution customers. In addition to the documentsolution.com website, you can also watch Astragraphia customer testimonials from Youtube channel: Astragraphia Document Solution.
"News" and "Photo Gallery" Features
The "News" and "Photo Gallery" pages are a collection of activities that have been carried out and held by Astragraphia from 2017 to the present. Every activity is covered by the media crew or internal activities with customers, which are constantly updated as inspiration for customers.