Automation is the Key to a Growing Business
Astragraphia Document Solution - In a fast-paced world with many new technologies developing, automation is a source of oxygen for business growth and productivity. The use of machines, management control systems, and information technology has been adapted from small, medium-scale businesses to corporations in order to reduce operational costs effectively to achieve the desired business profit.
To achieve this goal, there are many things that the company must do. The biggest question is, have your company's systems been following the growth of your current business? Is the workflow process in your company efficient?
Based on survey research from Microsoft and IDC Asia Pacific, 2021, it is stated that 74% of companies in Asia, including Indonesia, are accelerating the digitization of their business in an effort to innovate as a strategy to survive in the midst of a pandemic. Unfortunately, there are still around 26% of companies in Asia that have not yet utilized digital workflows in their operations.
Astragraphia Document Solution here will provide some tips on how to improve your company's systems and do the job quickly, efficiently, and quickly as follows:
1. Adaptation to Cloud Technology
Whether you operate in a single office or a specific area, it's important to integrate your cloud processes and services into one system so everyone knows where to access and store important information.
2. Make information accessible and easy.
Remember, nothing goes faster than not having updated information. Right now, you just need to click a button so team members from different offices can access, share, scan, or print each other's data in real-time. The big advantage of this type of open access and collaboration is increased teamwork and integration. Empower your employees to connect to platforms and multi-functional photocopiers / digital printers, so you can now work anywhere.
3. Automate and innovate.
You can now use your multi-functional copier to automate workflows between different systems for seamless connectivity between projects. For example, you can automate the steps in the invoice process to ensure files are sent to the right folders and people as soon as they are scanned.
4. Data security without expensive costs.
The latest workflow management incorporates security features that can protect the entire life of your document management - from creation to set document permissions to creating digital scan backups.
By improving and automating workflows, you will be able to communicate seamlessly with your colleagues and effectively plan cost reduction for your company.
Not only that, with the latest "The New ApeosPort Series" products and solutions, you can easily manage your workflow as well as your document printing costs. "The New ApeosPort Series" has the following advantages in the pillars of Carefree Management: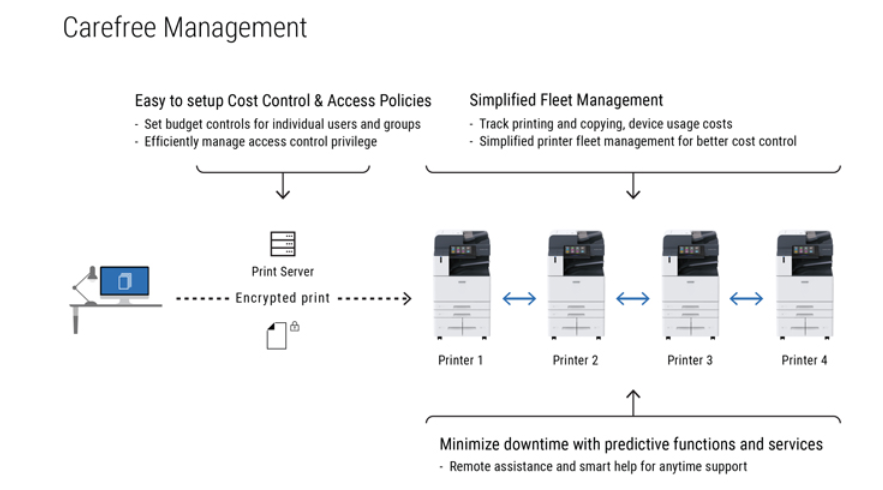 1. Cost Fleet Management Solution
Control staff access and track printer usage to optimize operating costs. Get total visibility of your print environment for better device management, budgets, and access policies.
2. Smart Help
The New ApeosPort Series is equipped with Smart Help on the user-interface screen as well as direct standalone support.
To find out about other superior technologies from "The New ApeosPort Series", you can contact our Business Consultant Team directly or go to Halo Astragraphia at 1500-345 every Monday - Friday 07.00 - 18.00 WIB.
Source:
Adapted and adapted from https://www.fujixerox.com.sg/en/Insights/Article/Automation-is-a-breath-of-fresh-air-for-a-growing-business
Microsoft and IDC Asia Pacific Research, 2020. Retrieved: 9 March 2021