Astragraphia Introduces iCare, Service Requests in One Hand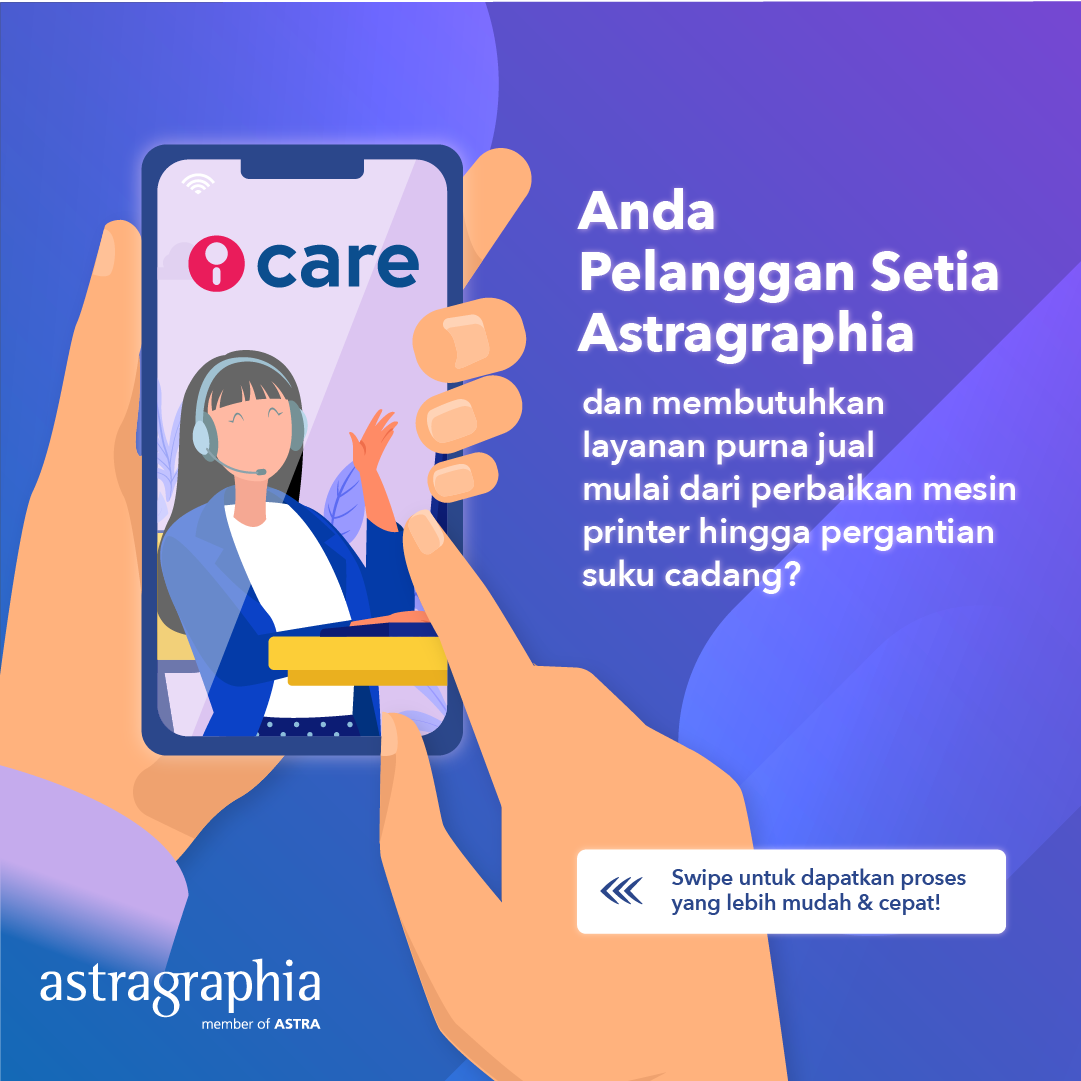 Astragraphia Document Solution, 19 January 2021 - Starting in the year 2021, Astragraphia Document Solution launched one of the newest mobile applications based on Android called iCare. iCare is the ultimate answer to Astragraphia's customer needs to make it easier to request services from machines marketed by Astragraphia such as multifunctional photocopiers, printers, production scale printer machines to finishing machines.
With the increasingly widespread digital transformation trend, it makes the development of the lifestyle of office workers more flexible, faster, and smarter. Especially now that everyone uses a smartphone to carry out daily activities. Based on a research study from McKinsey Digital on "Discussions on Digital: The Mobile Present and Future", states that the more flexible a person is, the use of smartphones is also very much needed. A smartphone can complete all the communication needs of a person anywhere and anytime. The use of smartphones is increasing because all businesses are starting to realize the need of using smartphones as an effective way to reach out to their customers. Optimizing the use of smartphones and mobile applications is one major asset that can help businesses improve their experience, making it easier for customers to get better service. Astragraphia Document Solution (Astragraphia) answers these needs and challenges by developing an innovative mobile application to facilitate service requests from Astragraphia called iCare. The launch of iCare was launched online to all Astragraphia people on January 18-19, 2021.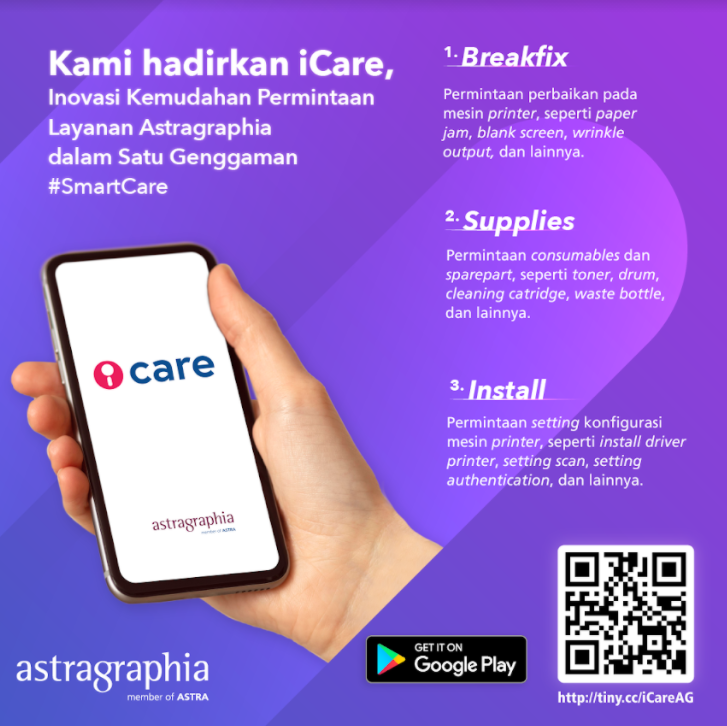 What is iCare?
iCare is Astragraphia's latest Android-based mobile application service. iCare was specifically developed for loyal Astragraphia customers throughout Indonesia in order to find it easy to request service services, such as Customer Engineer requests for printer engine service repairs, requests for consumables and spare parts, as well as configuration setting requests, printer machine. Through the main features of the iCare application service, Astragraphia customers who have only usually made requests for services via Halo Astragraphia at 1500-345 every Monday - Friday at 08.00 - 18.00 WIB, now have another alternative to access the convenience of Astragraphia service requests which is simpler and monitored by mobile. Worry-free! The Astragraphia service application, now everything is complete in one hand.
The main features of iCare that you can experience:
1. The Breakfix feature, if there are problems with the printer machine anywhere and anytime, now, customers can easily make printer machine repair requests, such as paper jams, blank screens, wrinkle output, and others.
2. Supplies feature, you can more conveniently and easily request Astragraphia consumables or spare parts anytime and anywhere.
3.The Install feature, a service for requesting Astragraphia printer engine configuration settings, is now easier than you might think. Customers don't need to bother installing printer drivers, scan settings, and authentication settings on the printer machine according to customer needs. Astragraphia's Customer Engineers are always ready for you.
How do I get the Astragraphia iCare application?
You simply download it directly from the Google Play Store (link: http://tiny.cc/iCareAG) to your smartphone. Then, you can register your personal data (email and cellphone number. Choose your personal identity by using your ID or SIM selfie upload as validation. After you submit the data, then wait for approval and activation from the Astragraphia team which will be sent via a notification in your email. After that, you are ready to use your email and password during registration, to login to the iCare application. Astragraphia hopes to increase the work productivity of our customers if there is a request for service at iCare only.
iCare. Smart Care.
Source:
- Astragraphia Document Solution
- https: //vwo.com/blog/10-reasons-mobile-apps-are-better/
- https: //www.mckinsey.com/business-functions/marketing-and-sales/our-insights/discussions-on-digital-the-mobile-present-and-future