Company Brief History
Astragraphia started it's business in 1971 as a Xerox Division of PT Astra International which is then separated into its own legal entity in 1975. On April 22, 1976 Astragraphia directly appointed as the exclusive distributor of Fuji Xerox Co. Ltd. Japan to Indonesia with it's business scope as office equipment provider and after-sales service.
In 1989 Astragraphia listed its shares on the Indonesia Stock Exchange (formerly the Jakarta Stock Exchange and Surabaya Stock Exchange) with ASGR ticker symbol. As of December 31, 2014, 76.87% of Astragraphia shares owned by PT Astra International Tbk, and the rest is owned by the public.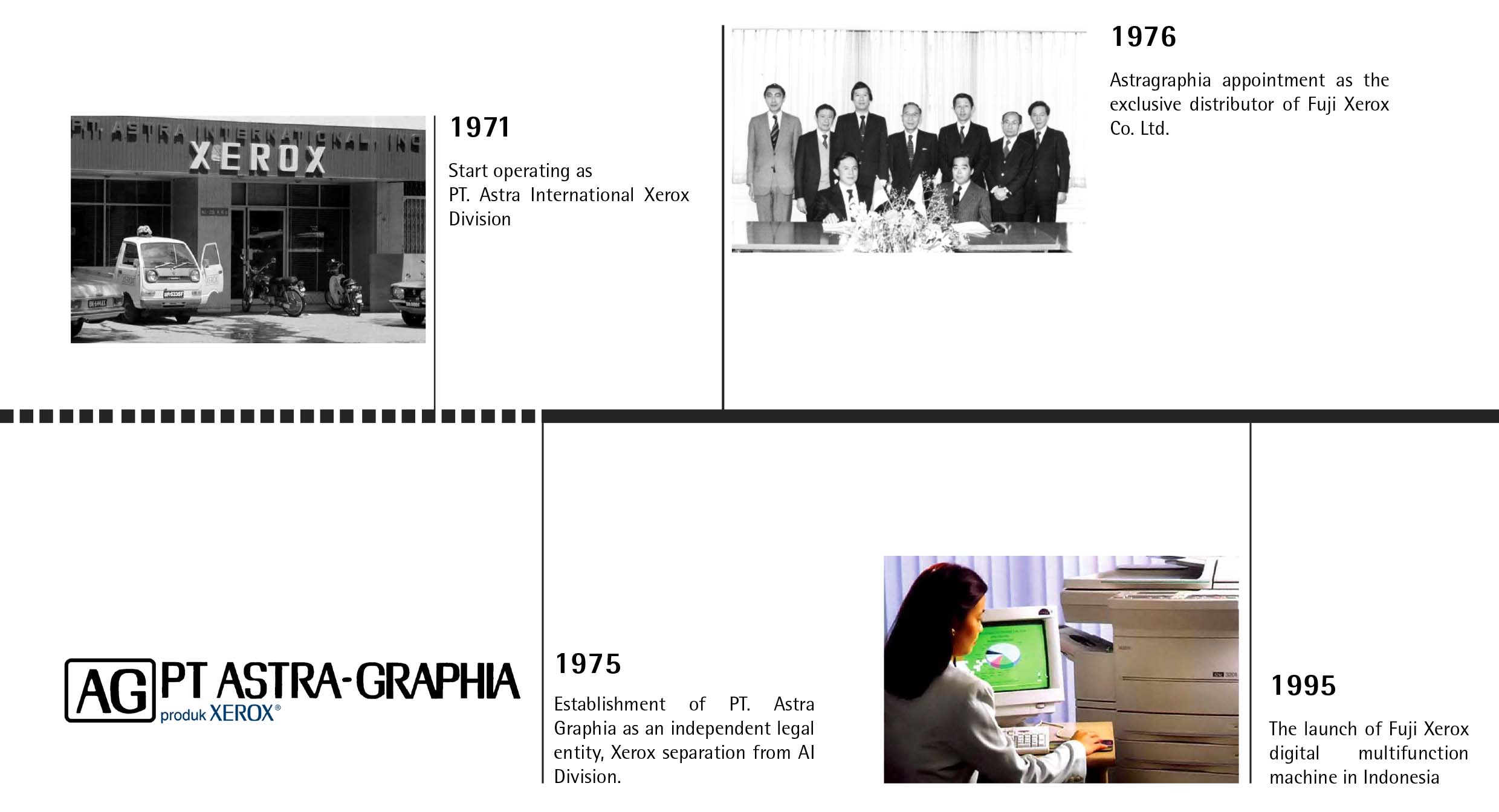 1971
Start operating as PT. Astra International Xerox Division
1975
Establishment of PT. Astra Graphia as an independent legal entity, Xerox separation from AI
1976
Astragraphia appointment as the exclusive distributor of Fuji Xerox Co. Ltd.
1995
The launch of Fuji Xerox digital multifunction machine in Indonesia.
2021
On April 1, 2021, Fuji Xerox Co. Ltd., announced the change of company name to FUJIFILM Business Innovation Corp. The name change aims to expand the scope of the business area going forward and realize the company's commitment to always bring business innovation
Company Structure
In line with customer dynamic demands technological developments, especially in information technology and communications, since the 1990's Astragraphia began it's business transformation into information technology solutions provider. In 2016 management decided that the scope of Astragraphia business group is focused at Printing and Digital Services on Document Solution.
Astragraphia has two subsidiaries, PT Astra Graphia Information Technology (AGIT) which is focused in the field of information and communication technology and PT Astragraphia Xprins Indonesia (AXI), which handles outsourcing production printing documents service solutions, office needs and courier provider. Astragraphia main business is Document Solution with Fuji Xerox as its main principal, this business unit is integrated in Astragraphia Corporate.
Vision
To become Customer Preferred Partner in Document Solution
Mission
1. Provide Valued Services and Color Document Solution
2. To Inspire Customer Business Action through Valued System and Process
Enterprise Document Solution
The Enterprise Document Solution (EDS) portfolio markets Multifunction Device (MFD) devices for small, medium and large office scale. EDS also provides Print Management, Workflow Management & Cost Recovery solutions that support increased work productivity and cost efficiency in customers.
Software Solution
Cost saving, ease of document management and process automation. Fuji Xerox DocuShare recognized as one content management platform that is easy to use and most flexible. Fuji Xerox DocuShare connect users and a wide variety of content by tailoring company's system organization, so that employees, customers, constituents and partners can be more easily and efficiently access, share and process critical information. DocuWorks 8 is a document processing application that lets you easily manage and share information to various offices.
DocuWorks 8 is able to manage various types of varied electronic documents, such as office documents and images, intuitively on a computer screen like managing paper documents.
DocuWorks 8 serves as a document portal, and supports a variety of communication and collaboration needs in daily business activities such as managing personal documents and share information among team members.
Graphic Communication Service (GCS)
This portfolio provides a variety of production printing variants. In the black and white variants there are high volume product categories, printing system, to publishing system and in color variants there are Digital Color Press product with light production color scale, entry production color to high production color. In addition to Fuji Xerox product solutions, GCS also has a solution for printing workflow by the name of Free Flow Digital Workflow Collection.
Astragraphia Document Solution with Fuji Xerox become the first to present GOLD, SILVER, WHITE, and CLEAR DRY INK printing technology through laser printing technology in Indonesia, Equipped with the ability to print directly on black and red paper media. This solution can be made by Fuji Xerox Iridesse Production Press, which was launched in January 2018.
GX Print Server 2.0
GX Print Server 2.0 facilitates print production with maximum image quality. GX Print Server is a Digital Front End with the best productivity capabilities, best usability and best image quality that is developed to maximize the capabilities of Versant Printer Family (Versant 3100iPress). The best feature offered by GX Print Server is:
RGB Auto Photo Correction that can be used to optimize image quality cover Skin Tone Correction, Texture Details Correction, Texture Image
Correction vibrancy, and Sky Color Correction.
Flexible Layout to facilitate layout (imposition) very easily.
Outstanding productivity, allowed users to Ripping fast using RIP Accelerator Board technology.
Color Management Workflow, allow the user to be able to change the profile without repeating Ripping process.

A browser-based solution by automating repeated prepress activities and improve overall workflow efficiency, document printing / integrated jobs from le preparation until final and ready to produce. With Freeflow Core, the workflow of the most frequently repeated tasks can be created. The tasks can then be configured to different workflow applications. If workflow modification processes are required, they can be made quickly and easily, until the repeated prepress job can be done automatically with a faster time.
SMB Document Solutions (SDS)
The main product marketed by SDS is printers with Single Function Printers and Multi-Function Printers categories, whether it's monochrome (black and white) or color (color). In addition, SDS also offers Office Supplies such as consumables and paper, as well as Multi-Device Solution consisting of Paper Shredder and LCD Projector. And to complement customer needs, SDS also offers IT devices consisting of Printronix line matrix printer, PC /Notebook, Colour Scanner, Workstation, Server, and other IT peripherals. Besides that, PCB also provides solutions in the form of IT services which is Desktop Management that provides easy service to customers in managing IT assets such as PCs, notebooks, printers, and other IT Desktop devices.
Enterprise Document Solutions and Services (EDS Services)
Astragraphia understands that more than 90 percent of communication in business activities is conducted through the document. Documents can be a paper written, printed, or electronically as an information provider, evidence, or as an official record. Documents also play an important role in the operational success of a company and communication between customers, prospects, suppliers, and business partners. EDS Services is an Astragraphia Document Solution business in the form of a comprehensive service of document processing and business processes.EDS Services integrates the Astragraphia Document Solution portfolio and cooperates with business partners in fulfilling the service in accordance with the scope customer agreed as main business partners, we provide the best service with the advantages such as increasing productivity and cost evaluation contributed significantly to the growth of the customer's business.
One of the real forms of Astragraphia Corporate Culture is always providing the best service to customers. In 2023, Astragraphia Document Solution already had 92 service points in 31 branch offices, 4 Sales Points spread throughout Indonesia. For more information click here.

As a form of customer trust and appreciation from business partners, Astragraphia Document Solution has been awarded:
Appreciation for Strong Support in Indonesia for Q4 FY12 from Fuji Xerox - 2012
Production Service Business Best Operation Special Recognition for FY2013 1st Half - Asia Pacific Operation from Fuji Xerox
Best Brand Platinum 2013 - 8 Consecutive Years (2005 - 2013) - Product Category Photocopy Machine
Best Brand Platinum 2014 Awarded to Xerox for Photocopy Machine Category 9 Consecutive years (2005 - 2014)
Best Brand IBBA 2014 Awarded to Xerox for Office Colour Multifunction Category
Best Brand IBBA 2015 Awarded to Xerox for Office Colour Multifunction Category 2 Consecutive years (2014 - 2015)
Production Service Business Best Operation for FY2015 1st Half - Asia Pacifc Operations from Fuji Xerox (for PT Astra Graphia Tbk)
Indonesia Most Admired Company Award 2016
Digital Popular Brand Award 2015 – 2016
Rekor Bisnis Award 2016 for Pioneer in After Sales Services with Maximum Downtime of 3 Hours for Fuji Xerox
Pertama di Indonesia Award for After Sales Service with Maximum Downtime of 3 Hours for Copier and Multifunction machine
Outstanding Corporate Innovator Indonesia Award for The Best Process Development
Astragraphia has successfully obtained ISO 14001: 2015 Certification - Environmental Management System.
Astragraphia has successfully obtained ISO 9001: 2015 Certification - Quality Management System
Astragraphia has successfully obtained the OHSAS 18001: 2007 Certification - Occupational Health & Safety Management System.

Top 15 Customer Loyalty from PrintPack Indonesia
Document Solution Customer Service
In order to provide protection to the consumer, Astragraphia Document Solution has a Customer Assistance Centre which is a customer service center for
products or solutions provided by Astragraphia via telephone number 1500345, or e-mail ccc@astragraphia.co.id. or online at http://www.ilog.co.id
iCare
iCare is Astragraphia Android-based mobile application service specifically developed for Astragraphia customers with features such as: Break-fix, Supplies, Installation, and Collect Meter
3 Hours Downtime Commitment
As a form of our commitment to after-sales service, Astragraphia Document Solution provides maximum of 3 hours guarantee of service when the machine is not working properly, or we call it the "3 Hour Downtime guaranty". This guarantee is supported by:
Our trained workforce, ranging from Customer Contact Center officer, Customer Engineer, System Analyst, to Logistics Personnel.
And the use of the latest technologies such as:

IPCC
SAP
SMS Web Monitor System
Respons Tracking System
Term and Condition can be seen in here.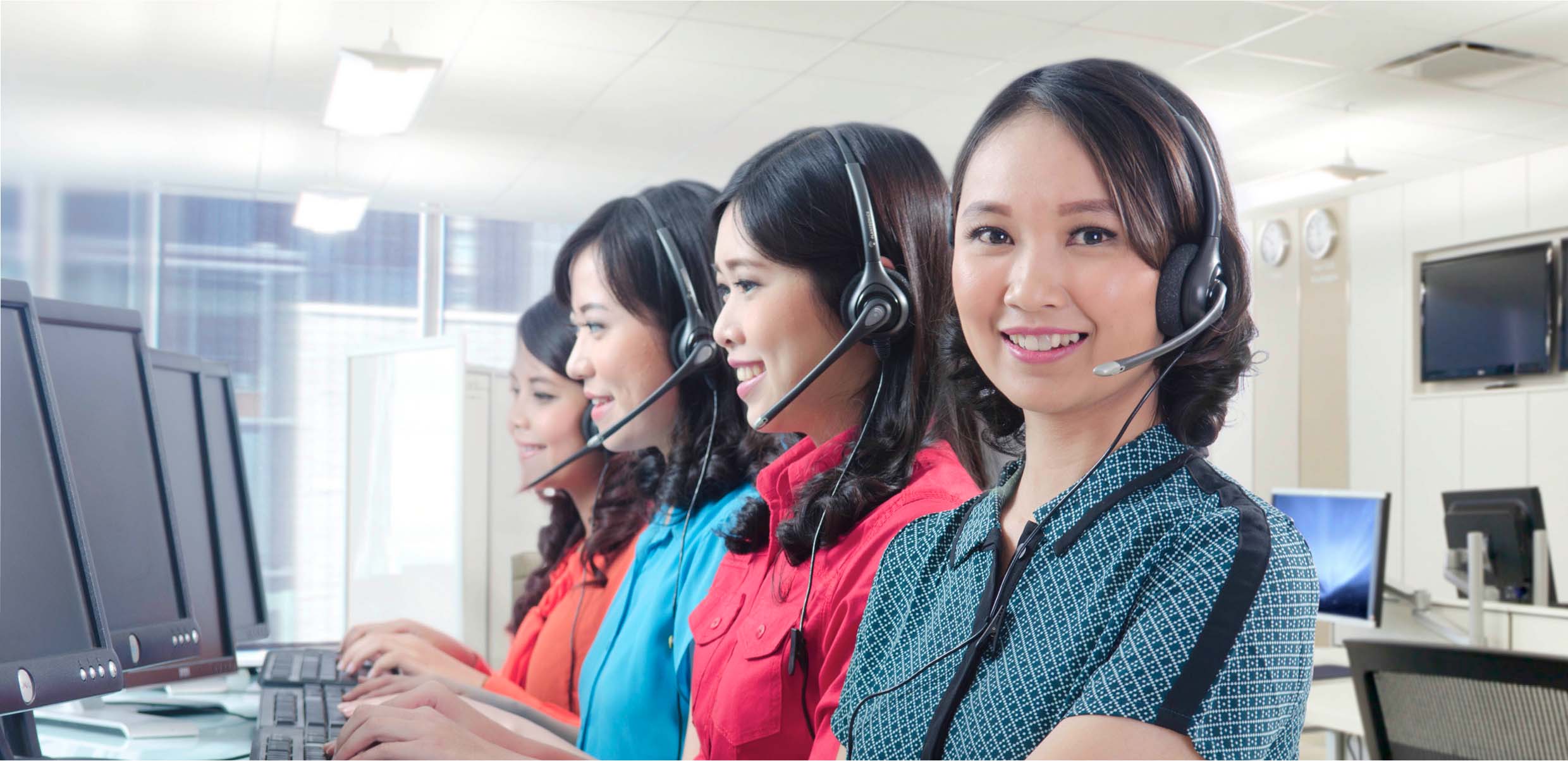 This page includes Fuji Xerox product(s), licensed from Xerox Corporation.
The distributor of the product(s) is FUJIFILM Business Innovation Corp.
Xerox, Xerox and Design, as well as Fuji Xerox and Design are registered trademarks or trademarks of Xerox Corporation in Japan and/or other countries.