Astragraphia Webinar: Sharing Printing Business Trends and Strategies for Outsmarting during COVID-19 Pandemic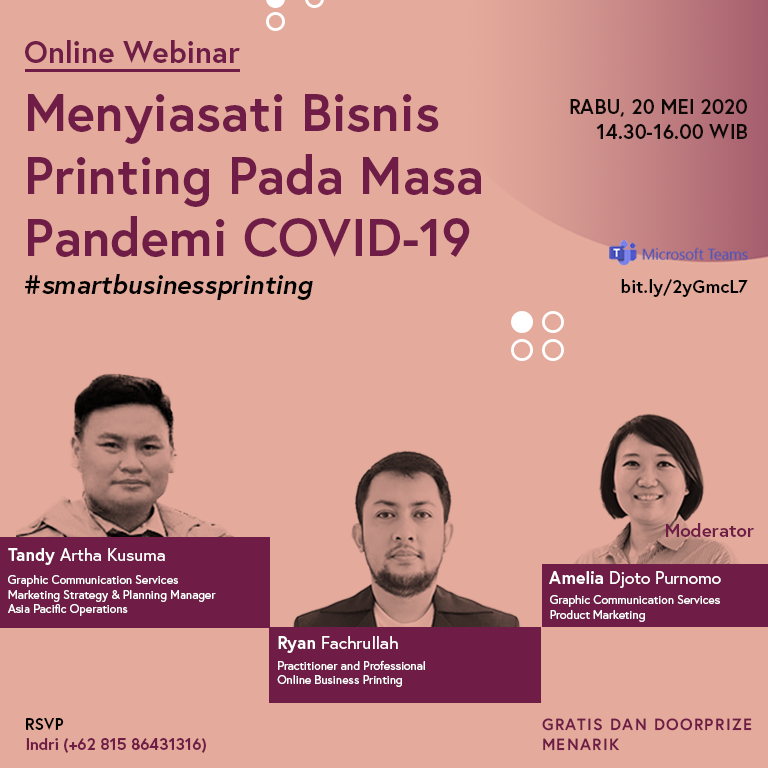 As a preferred partner in Document Solution, Astragraphia is committed to keeping in touch with customers anytime and anywhere. Astragraphia held a webinar in the form of an interactive online discussion on May 20, 2020. Entitled "Outsmarting Printing Business during the Pandemic COVID-19", the speakers gave sharing and education about business trends and online printing business strategies to deal with survival in the future.
If you look at the data regarding the printing business trends during the COVID-19 pandemic crisis, there has been a decline in daily income at the print shop. This happened, one of which was the impact of the PSBB implementation policy in a number of global regions, including Indonesia. The adjustment of printshop operating hours has become limit the customer visitation. Our resource person, Bp. Tandy Artha Kusuma as Graphic Communication Services Business Marketing Strategy and Planning Manager from Fuji Xerox Asia Pacific Operation said there was a change in consumer behavior in the era of "The New Normal" where people tend to want everything fast and practical and can be done online can actually open a new window of opportunity for printshop owners. The key is in the Printshop itself whether it is still conventional or ready to make changes, one of which is the online printing business.
The discussion was going deeper when the second speaker Bp. Ryan Fachrullah as Practitioner and Professional Online Business Printing said that the COVID-19 outbreak had changed consumer behavior and created a new normal thing called "Stay at Home Economy", which is an economy driven by economic actors living at home. However, there is no need to worry for business people because that moment can create a new leap in order to develop a business with great benefits, namely, with an online print shop (web-to-print) which is strengthened in terms of digital marketing.
More than one hundred participants were business owners in the printing and graphic art media have given a number of exposure data that is packaged in a presentation and followed by an interactive discussion. With the spirit to grow and develop with customers, Astragraphia's Webinar is expected to provide insights and tips for printing businesses to encourage business performance and continue to survive.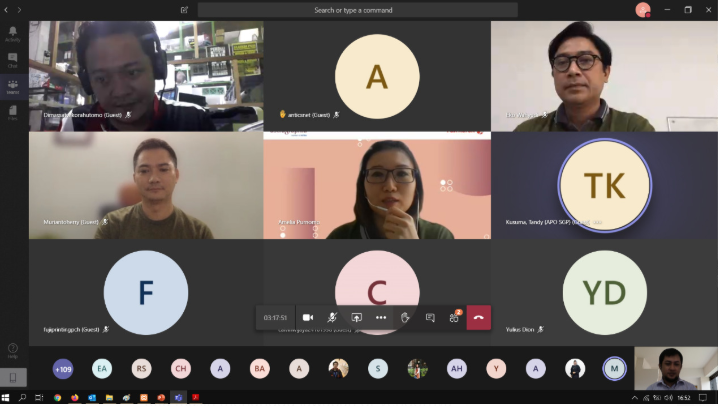 Thank you to all our loyal customers and participants who participated in the Astragraphia Webinar "Outsmarting the Printing Business during the COVID-19 Pandemic" Hopefully this insight can provide a motivation for beginners and printing businesses in Indonesia so that they can remain enthusiastic, optimistic that printing business (for example packaging, labeling, brochures, business cards, calendars) will continue to grow because it becomes part of the basic needs of the business in the industrial sector line. Stay tuned for the next webinar from Astragraphia. For more information, visit www.documentsolution.com and Instagram account @astragraphiadocsol to stay updated.