Astragraphia Webinar: Creative and Productive Tips Printing Business in the New Normal Era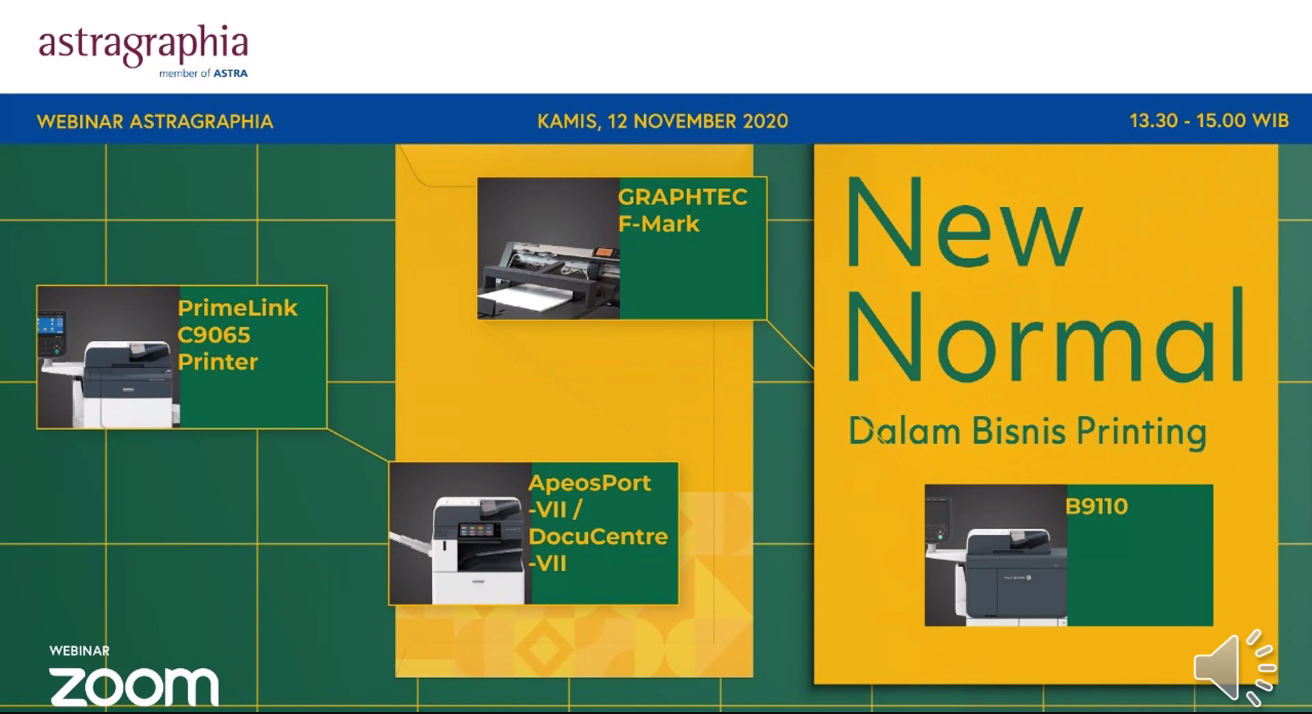 Astragraphia Document Solution, 25 November 2020 - The COVID-19 pandemic is a difficult period for industrial and business activities around the world, including in Indonesia. The lack of consumption activities carried out by consumers has made various companies reduce various business needs, including those related to printing needs. Right! Like a chain that is tied, the printing business is one of the businesses affected by the COVID-19 pandemic.
Despite the various risks and threats to the printing business and business, it does not mean that we as business actors do not rack our brains and have ways to survive. How come? The printing business is required to adapt quickly and precisely in order to match consumer needs for documents and print applications, but also to generate profits and continue its business activities.
This message is what Astragraphia Document Solution wants to lead as the preferred partner for all its consumers. This time, the Astragraphia webinar with the title "New Normal in Business Printing" was presented again, which was held on Thursday, November 12, 2020, through the ZOOM application. Together with Dhika Yasadenata and Jella Aditya as Business Consultants from Astragraphia Semarang Branch, this webinar wants to instill thoughts and hopes that the printing business is a creative business and can adapt to survive the new normal times of the COVID-19 pandemic.
Attended by various printing business owners in the Semarang branch area, Astragraphia Document Solution hopes to raise issues related to adjustments and creative printing business tips to face this pandemic, such as:
1. Printing businesses can adjust their target market; not only limited to end-users, but also expand to MSMEs, companies, and the government. Especially for MSMEs, the rapid trend of the creative economy in Indonesia, such as in the culinary, fashion or fashion, as well as crafts or crafts, makes the printing business still have a high chance of surviving because we can make MSME owners our new consumers.
2. Print applications that are produced must be more attractive and creative to be competitive. We can offer a variety of attractive print applications and an unlimited range of stickers and invitations. A creative printing business can produce beautiful packaging or packaging, publishers, folding cartons, and much more.
3. The printing business must be able to adjust promotional media and transactions, even elaborate on social media or market places. Online markets and similar e-commerce are considered effective in boosting the online printing business and maintaining our business existence
4. To be able to compete and attract consumers' attention, of course, the printing business must emphasize and prioritize quality rather than the quantity of production.
Then the question is, how can we be able to produce and offer attractive products to potential customers and be able to carry out our business activities?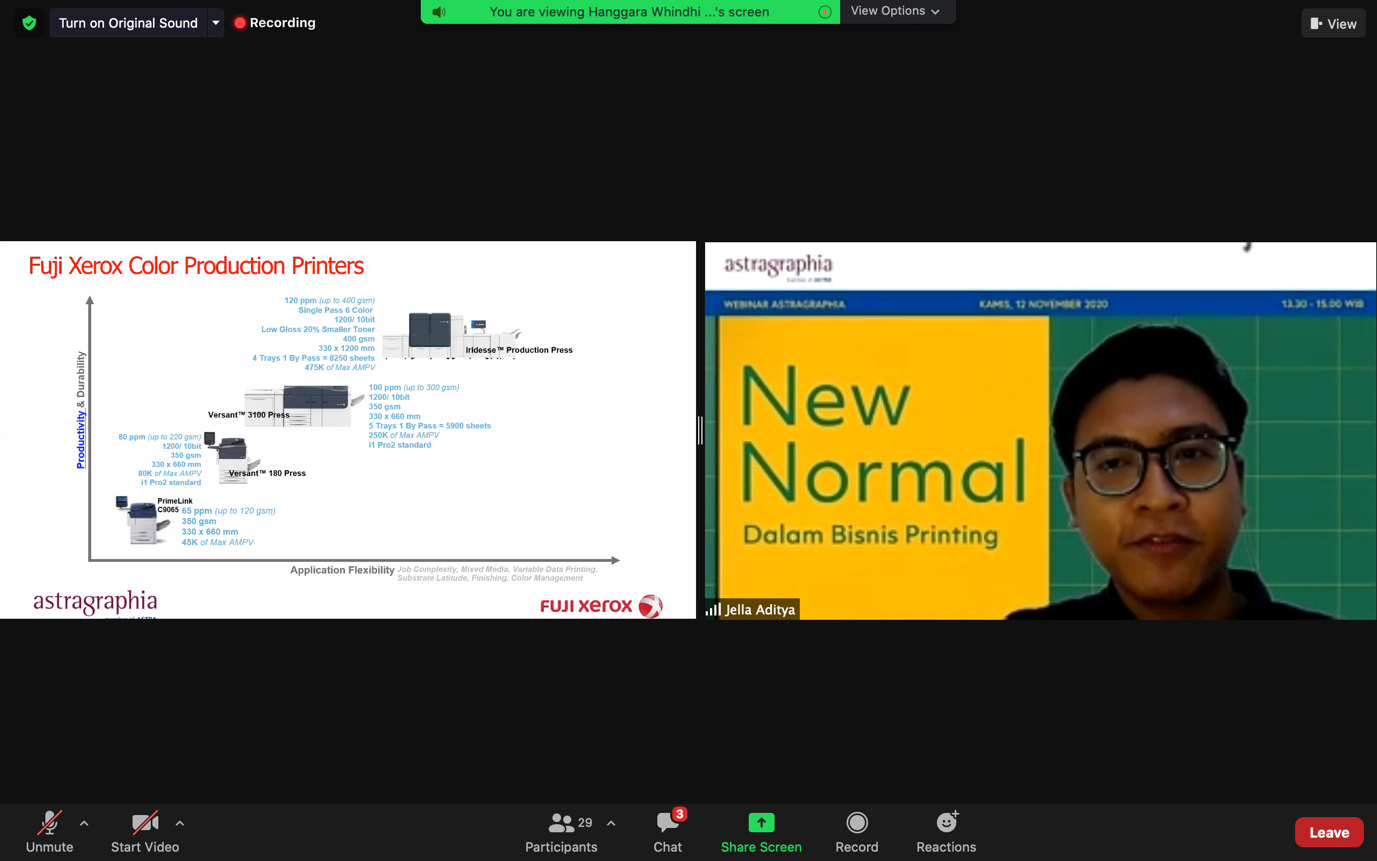 Astragraphia Document Solution answers these problems by supporting the flexibility and productivity of the printing business in a new normal era like this. The solutions offered come from multi-function printing machines from Fuji Xerox which already have a reputation for supporting both of these things. The various machines offered are the Fuji Xerox PrimeLink C9065 and Fuji Xerox B9100 which are capable of creating extraordinary and creative prints such as books, reports, magazines, to stickers, packaging, posters, and many more. Not only for printing, in this webinar Astragraphia Document Solution introduces finishing solutions in the printing business, such as the Graphtec FCX 4000 ES or FMARK CE6000 machines for various needs such as print and cut, custom apparel, and many more.
In this interesting webinar, Astragraphia Document Solution also provides attractive promos to all consumers by offering products at attractive prices. It doesn't stop there, Astragraphia runs a Full-Service Maintenance Agreement (FSMA) where consumers can get service/maintenance services that serve product repairs, replacement of spare parts, and replacement of consumables.
Not only supporting printing business activities, with this webinar Astragraphia Document Solution wants to continue to contribute and be your partner in facing the new normal era. We hope to get through this time in a creative and productive way and that your business can continue to exist in society
To see the complete range of products and solutions from Astragraphia Document Solution, you can contact Halo Astragraphia at 1500345 at 06.00 - 18.00 WIB Monday - Friday.