Astragraphia Introduces "The New ApeosPort Series" as a Solution to Adapt the New Digital Way of Working

Astragraphia Document Solution, 17 February 2021 - Throughout 2020, working from anywhere is no longer an option. The trend of digital transformation and changes in the way to work from home (WFH) in this pandemic condition has accelerated the adoption of digital technology for office workers. Not only that, but companies must also quickly adapt to create new digital workplaces for employees to work smartly, safely, and productively by utilizing digital processes.
Astragraphia Document Solution together with one of its portfolios, Enterprise Document Solution (EDS) introduces a series of multifunctional digital printing machines/printers "The new ApeosPort Series" and solutions from Fuji Xerox that are here to overcome barriers to new work practices in your company to increase work efficiency and productivity. remotely and combat security threats (Cyber ​​Threats) in the digital world. Astragraphia Document Solution held an online internal webinar for operational teams in all branches of Indonesia on Wednesday, 17 February 2021 through the Microsoft Teams Live Event.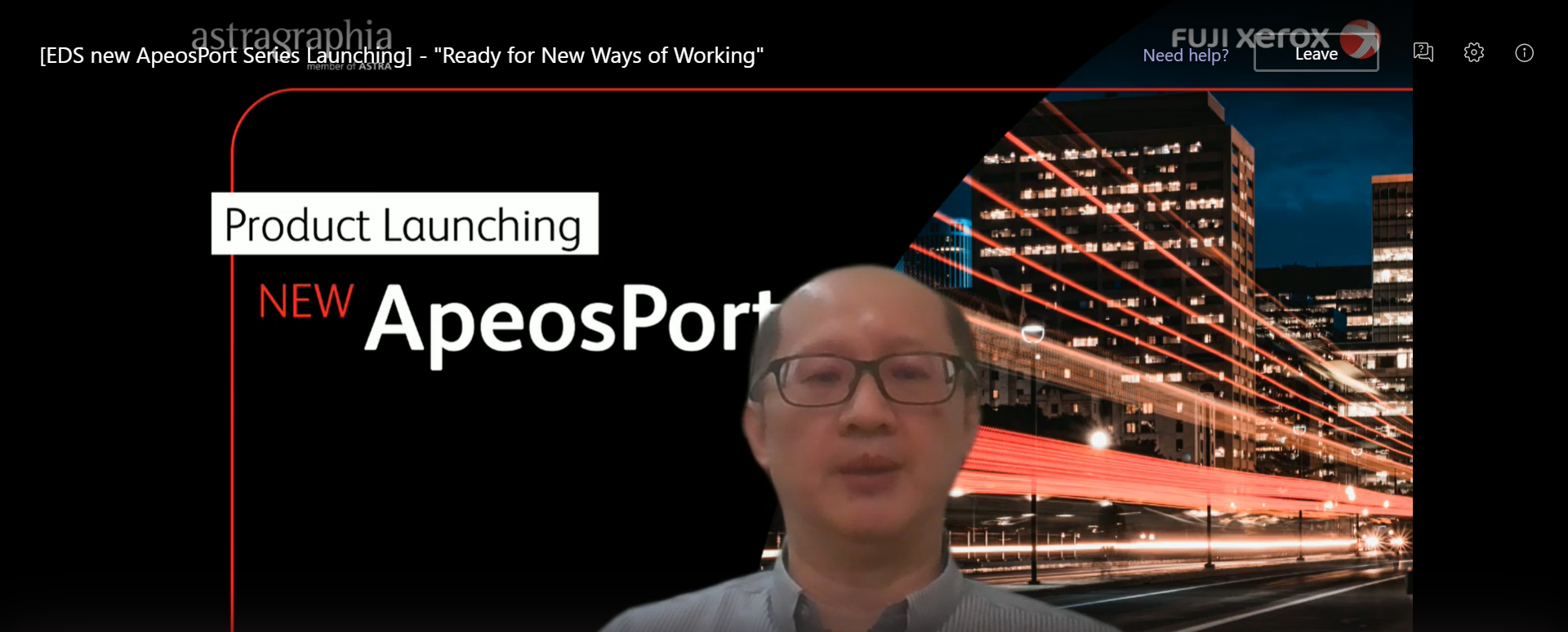 The internal launch event of "The new ApeosPort Series" lasted for two hours and was hosted by Friska Manalu from Product Marketing Enterprise Document Solution (EDS). At the opening of the event, Mr. King Iriawan Sutanto as Director of PT Astra Graphia Tbk expressed his hope that Astragraphia's latest solution this time can bring work effectiveness, job security, and synergy with colleagues who work remotely with you to run effectively and remain productive. "The new ApeosPort Series" from Fuji Xerox is designed to accelerate the growth of your business by providing freedom and adaptation to changing ways of working and being safer, anytime and anywhere. After that, followed by an explanation from Roma Romansyah, Product Marketing Enterprise Document Solution (EDS) which introduced how this new device from Fuji Xerox can increase protection, promote freedom for business and add value to users through the benefits of 4 main pillars of features and solutions " The new ApeosPort Series "from Fuji Xerox, among others:

1. 360 ° Data Security
The "The new ApeosPort Series" product includes measures to ensure protection ranging from secure scanning systems to termination of invalid access and allows historical audits to monitor real-time devices.
2. Borderless Workspace
The New ApeosPort Series makes connectivity to a number of solutions even easier, from digital document archiving solutions to document distribution.
3. Carefree Management
The New ApeosPort Series can control staff access and track usage of multi-function printers to optimize operating costs. Not only that, The New ApeosPort Series is equipped with a Smart Help feature on the user-interface screen and can be operated independently.
4. End-to-end Automated Workflow
Mobile solutions and cloud connectivity are used on multi-functional printing machines to support changing work styles to be more flexible so that they can collaborate with each other to print documents from anywhere.
The launch of a multifunctional printing machine is a commitment from Astragraphia to continue to innovate and meet the growing business needs of today, especially during an unprecedented pandemic. The most important thing is to help you transform into a new digital way of working.
For more specifications and advantages of "The new ApeosPort Series" devices, you can visit https://documentsolution.com/products?c=multifunction-all-in-one-printers or call Halo Astragraphia at 1500 345 every Monday - Friday 07.00 - 18.00 WIB.