Have you tried? With Xerox Standard Accounting, the Operating Costs of Printing Documents in Your Office are More Efficient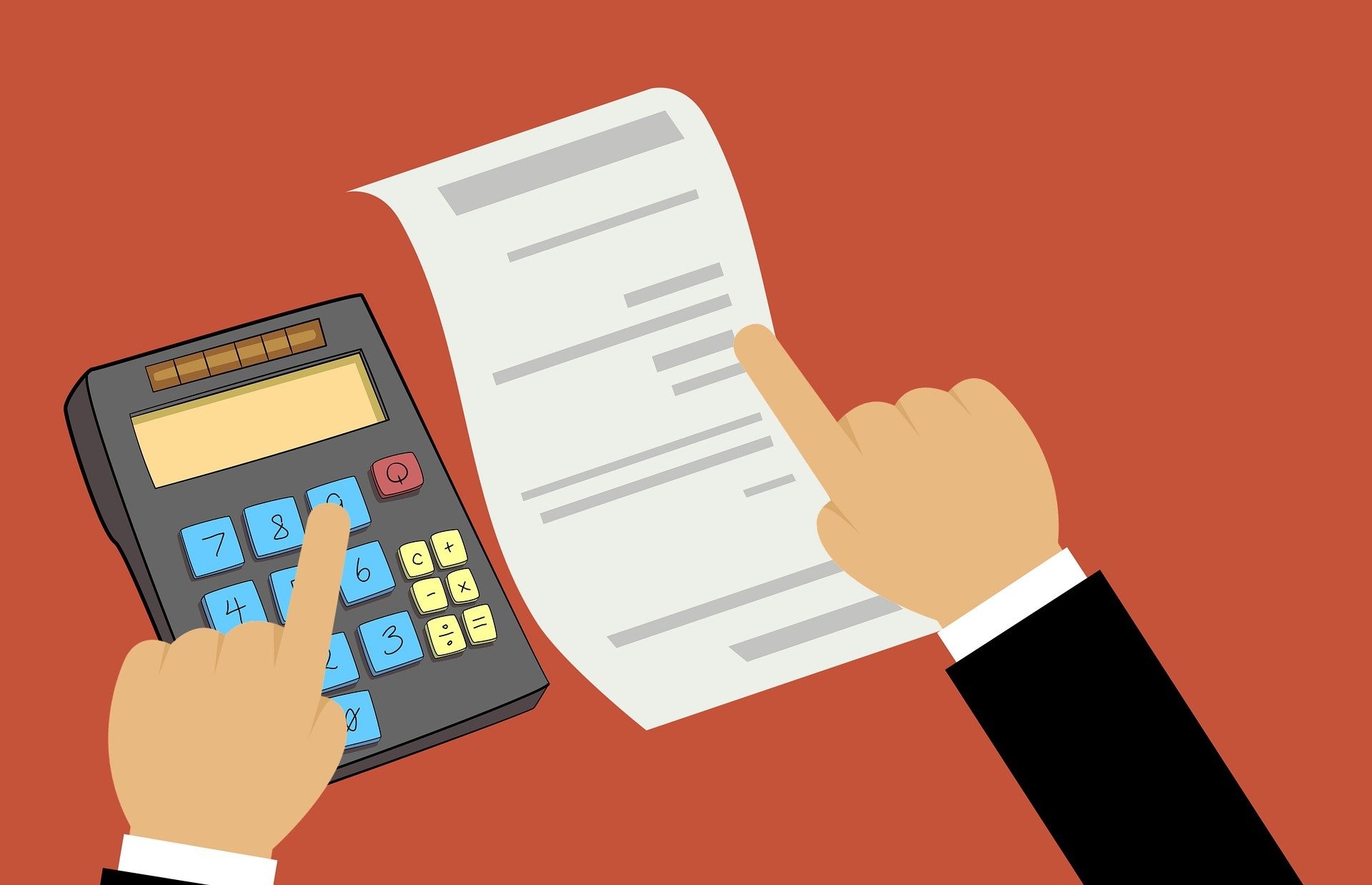 Astragraphia Document Solution - If you run a business or are working as an employee in a company, of course, you have an obligation to be able to keep your business efficient and profitable. Challenges during a pandemic like today, there are many things that can be done so that all operational costs of your business or office activities can still run while maintaining business profits. Starting from managing a good budget, financial adjustments, controlling cash flow, managing operational expenses, it is also adjusted to the field of business that is being carried out.
Based on research sources from the Buyer's Lab website, it is said that printing activities within the company fall into the category of unexpected operational expenses. 90% of most businesses and companies are unaware of their document printing habits. This excessive printing can occur because it is used for unnecessary printing and personal printing. Not only that, unexpected costs emerged associated with the amount of time the IT team spent on printer issues. Interestingly, two out of three small and medium entrepreneurs (SME), don't even know how much their printing costs. If your business regularly uses a multi-functional copier (MFD), it is important that you know how to manage operating costs.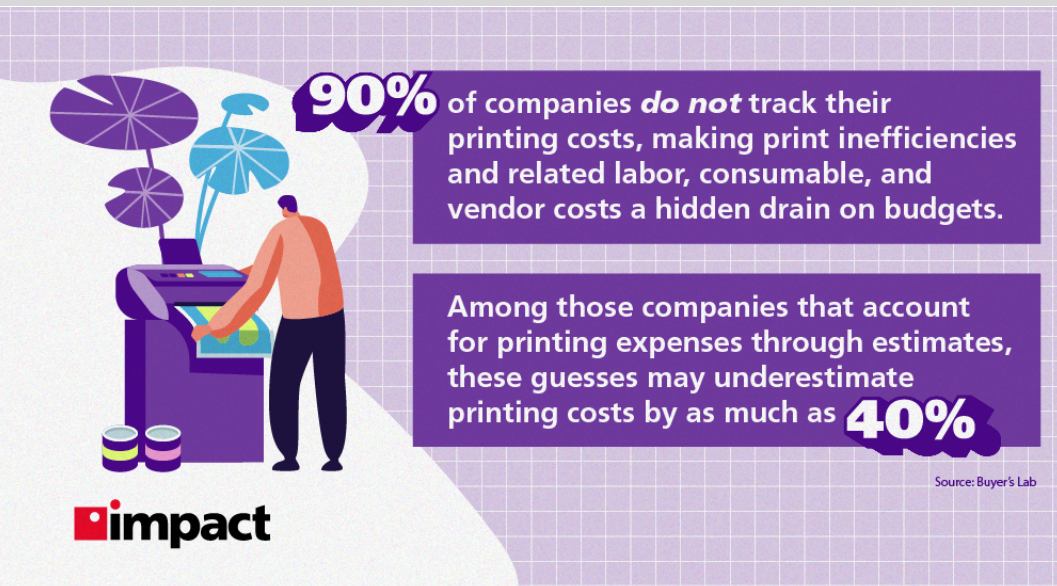 The problem of unexpected costs resulting from printing activities has resulted in many large companies now starting to need Managed Print Services (MPS) solutions to be able to control expenses to create cost efficiency. Is this MPS Effective? The answer is Yes, but it is very unfortunate because it turns out that the implementation of MPS technology requires a very large cost. What about the small and medium-sized businesses that you are running so that you can still make printing cost-efficient at an affordable budget?
Don't worry! To answer printing cost problems for your business or company, Astragrapahia Document Solution introduces the Xerox Standard Accounting (XSA) solution. XSA is an authentication technology that focuses on restricting access and the number of printed sheets for each user or per group. Apart from that XSA makes it possible to pull usage data too. As one of the steps to reduce printing costs, you must first identify who prints and the frequency of how often it is done. This is certainly not an easy task if it is done in a pandemic moment like now, especially if you have many employees, and different departments with flexible working hours and different entry schedules, for example, the WFH-WFO arrangement.
Here are some XSA features that can be implemented to simplify the process of identifying your printing activities.
1. Local Authentication
The Fuji Xerox ApeosPort / DocuCentre series has a local authentication feature that can restrict access to devise features (copy, print, scan, fax) or usage quotas and display the results of use in excel. By default, AP / DC devices have an access restriction feature. XSA technology can capture print activity when you are using print anywhere printing technology. XSA uses third-party software that is installed with your multifunction copier (MFD). Basically, this technology holds the printed document in the printer until the employee physically asks the printer to print it by entering a code or using a card (ID Card Printing). This allows you to keep track of any individual or departmental work.
Capturing details about your office printing habits is an important step in finding out about unnecessary printing costs. In addition, XSA allows adding a password to each account so that account access is more secure. All XSA settings can be done on your multifunction copier machine (MFD) portal.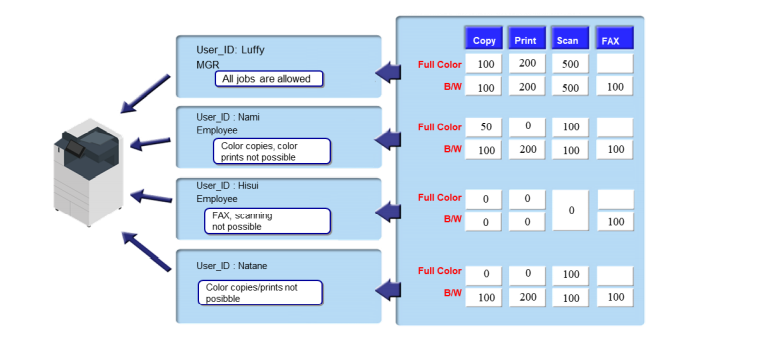 2. Set Usage Limits
XSA has a feature to limit the user's quota usage for each function on the device. XSA has a User Account Group reset feature which allows the admin to reset all users in the same group in one reset.

3. User Assigned to a different Group Account / Project
XSA has a feature where user usage can be assigned to groups so that the report will display usage based on user groups in addition to the usage of each user. This allows a Cost per Project Solution that divides the usage of users based on each project. This solution is very suitable to be applied to customers who charge their clients.
4. Usage Report
To track printing costs, a usage report feature is very important. XSA makes it possible to export user usage data in .csv form. The resulting report informs the usage per user as well as per user group. This feature requires the admin to reset manually, if the reset is not done, then for the next report, the calculation will include all the calculations from the previous report. There is no set number of how often you should generate printing activity reports. However, the more often you generate printing activity reports, the better control you will have over the cost of printing in your office.
Saving company operational costs requires cooperation from all parties, and it can be started from your biggest operational activity, namely printing, Astragraphia Document Solution helps optimize workflow in your company by presenting a whole series of products and solutions that can increase your productivity. Not only that, most of the multifunction copier devices from Fuji Xerox ApeosPort / DocuCentre already have the function to apply automatic rules for all office equipment. Now work is even easier, efficiency is maintained, productivity continues to increase.
Source: https://www.harmony.co.id/blog/5-cara-mengurangi-biaya-operasional-agar-lebih-efisien
https://www.impactmybiz.com/blog/blog-print-management-benefits/