Data Capture, Smart Solution for Digitizing Your Documents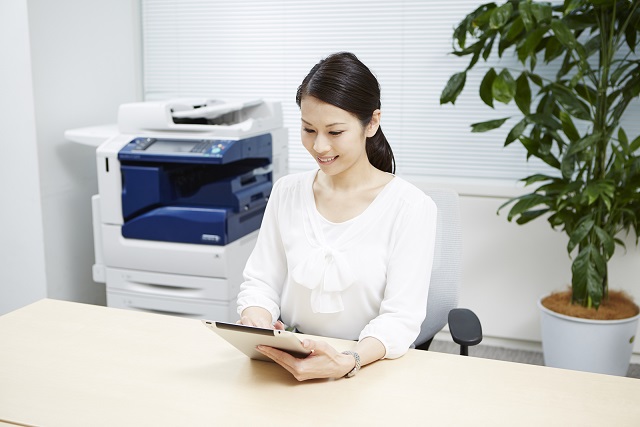 Astragraphia Document Solution - The development of documentary needs is going in a very massive direction where this is in line with technological and digital developments. Of course, this development must be followed by the existence of a document management system that is more advanced with the digitization process. From several surveys to different respondents conducted by the Association for Intelligent Information Management (AIIM), it was found that 58% of respondents performed scans to make documents easy to find, 48% of respondents performed internal scans, 32% of respondents felt a significant increase in the number of documents.
As we know, currently there are still many companies that adapt conventional document management processes. The manual document management system process will unexpectedly become a problem for the company. Employee productivity can be disrupted and will cause delays in accessing the database, besides human error factors such as input errors and work processes if you have a large volume of documents, it will certainly be slower. Therefore, every business agency and company is required to have certain standards that are used for the document management process both structured and unstructured.
Although simple document digitization with a scanning process has been carried out, this requires a process that is quite time-consuming and labor-intensive, where there must be a manual routing and document renaming process. For this reason, several companies began to look for a more advanced solution in digitizing documents with the Data Capture solution covering the process of capturing all the data that they wanted to document, then processing and identifying the format. Only then are the documents distributed to a storage folder or sent to the email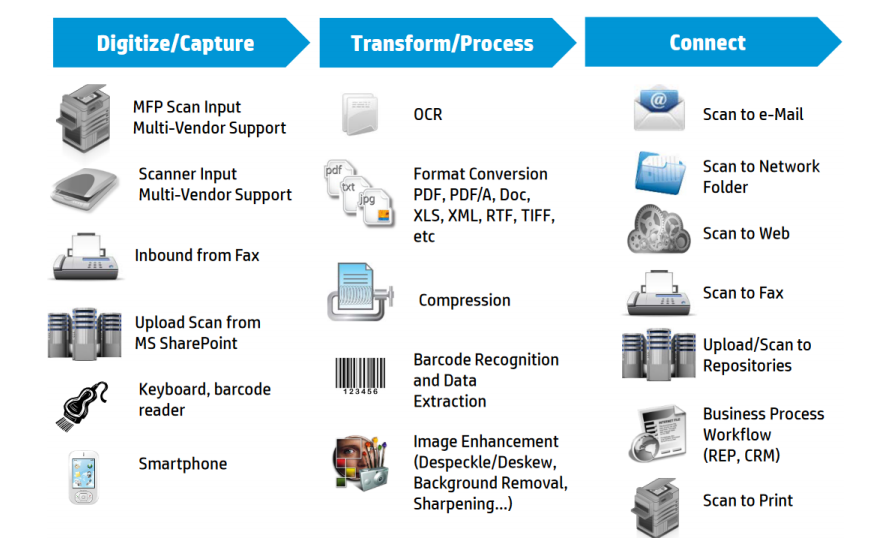 In general, the Data Capture solution itself is divided into 2 types, namely structured and unstructured. Currently, many multi-functional photocopy machine assemblies develop a structured Capture solution that is quite affordable and can be integrated with your multi-function device. To answer these problems, Astragraphia Document Solution provides this Data Capture Solution so that it can simplify your workflow. From the solution features, Capture Fuji Xerox has several solutions that can adapt to customer needs. For the SMB scale, Fuji Xerox has a Scan Delivery feature, while for the Enterprise scale Fuji Xerox collaborates with Kofax AutoStore which can be integrated with a series of multi-functional photocopiers from Fuji Xerox ApeosPort V, VI, VII Series types.
With a data capture solution that is done automatically and quickly, you can reduce input errors, using a scanner and character reader technology (ICR / DCR / DMR / Barcode) printer-generated data. Let's review in more detail about the Scan Delivery and Kofax AutoStore features from Fuji Xerox below:
1. Scan Delivery feature
Scan Delivery allows the user to scan with the output properties settings previously made by the admin. In this feature, users can name files/folders by selecting a list of registered file names (such as invoices, POs, contracts, letters, etc.) so that users only need to add a little information for the file names to distinguish them from other files. This feature supports sorting documents using QR / Barcode so that in one scan process, the resulting output will be several files according to the sorting done. In addition to QR Code / Barcode Scan Delivery, it also has a feature to extract text in scanned documents, which allows taking the text in the document as a naming or document attribute.
The following features are contained in Scan Delivery:
• Registering a Document Flow Administrator - can create a menu flow that determines scan settings and document storage destinations.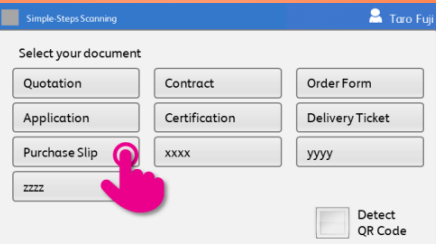 Adding an Independent Attribute to a Document When a document is saved in DocuWorks or PDF format, attributes can be added to the document.
Using a Special QR Code for Scan Delivery for Automatic Settings by attaching and scanning the QR code with its contents, automatically running the scanning process according to the configuration that has been set by the admin.
Auto Image Processing allows the results of imaging processes such as Skew correction, Skip Blank pages, Shadow suppression, Background suppression, Auto Rotation, High compression & OCR
6 Languange for OCR Scan delivery has OCR capability up to 6 languages ​​Japanese / English / Korean / Traditional Chinese / Simplified Chinese / Indonesian
E-mail Notification Admin can set up notifications so that it will notify certain users about the results of document scanning processing.
2. Kofax Autostore
A server-based application that manages Capture and Routing from Hardcopy and electronic documents into business applications. AutoStore has 3 main processes, including:
Capture Component - captures documents from MFD devices, email, smartphones, tablets, XML Routing Data, desktop PCs, office applications, and Network and FTP
Process Component - detects, reads, extracts, stores, converts, classifies, and indexes captured document content
Route Component - sends documents to almost any destination such as fax, e-mail, network folders, PCs, and document management systems.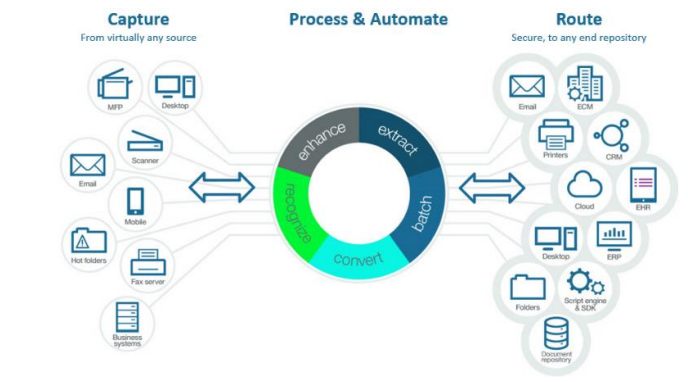 In the process of converting documents from conventional to digital, it is certain that there will be a little chaos. This is natural because changes in any field will definitely take time for adjustment. As long as there is a need for document management, these two solutions will greatly simplify your document workflow. The solution features can be applied by all industries according to the needs of your respective business.
Before deciding on a Data Capture Solution that suits your business needs, please consult by contacting Halo Astragraphia at 1500-345 every Monday - Friday, during working hours (06.00 - 18.00 WIB)