ApeosPort / DocuCentre VII Series: Standard Features with Amazing Results!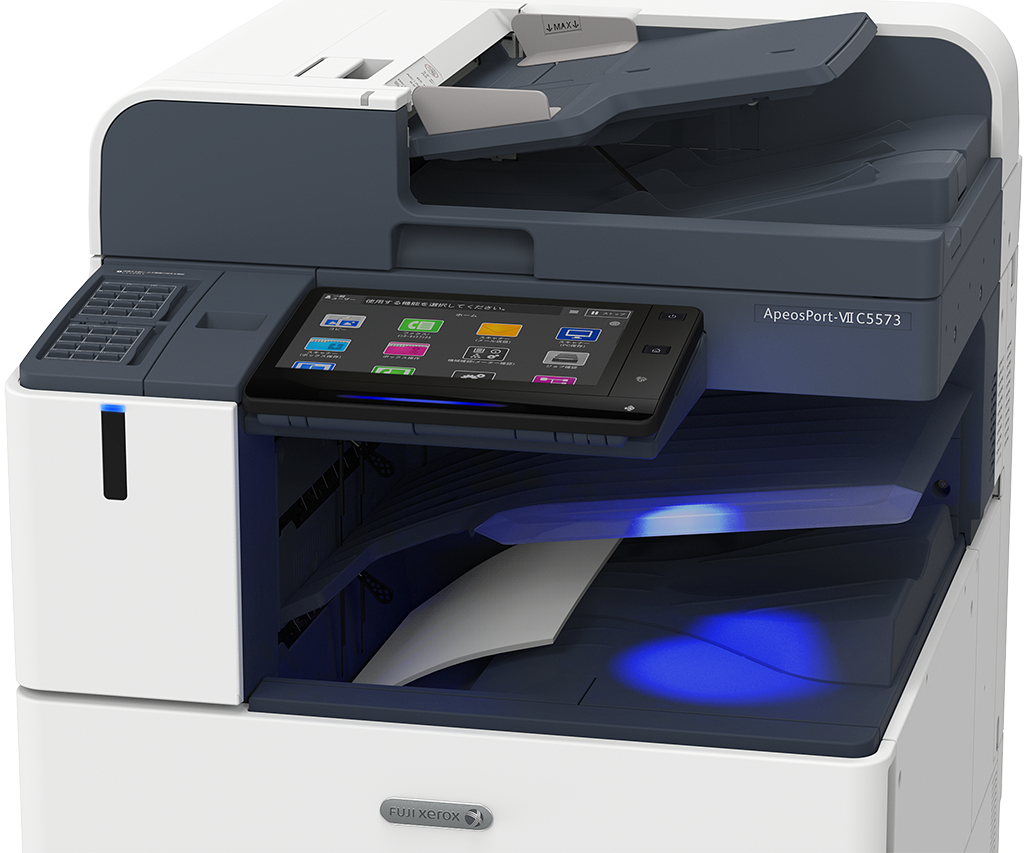 Fuji Xerox has launched the newest multifunction photocopier machine in early April with digital technology features that are superior to its predecessor. MFD ApeosPort / DocuCentre-VII-C Series are in the middle class for office printing needs with automation. There are two types of key features on this MFD ApeosPort / DocuCentre-VII-C Series, which are standard features that have become default from the printer, and optional features for a more flexible work process.
Free (Standard):
- Smart and New Control Panel
The latest UI design that is very flexible and responsive
- NFC (support Android & iOS)
It is possible to Print & Scan from SmartPhone practically (Tap & Print / Scan) through the Fuji Xerox Print Utility Application.
Copy, Scan and Fax from SmartPhone (Portable UI Application) without having to do settings in the Machine UI.
- Smart Help
Smart Guidance using MFD and guidance can be transferred to SmartPhone via QR Code.
- Soft and Silent Paper Tray Retraction (Tray 1-4)
Closes the tray automatically without having to make a sound
- Duplex Automatic Document Feeder that closes slowly (standard in AP / DC-VII C6673 / C7773)
Close the DADF slowly without making a sound
- Multi-feed Detection (standard in AP / DC-VII C6673 / C7773)
A sensor that detects paper stuck together at the time of copy/scan to prevent any missing information because several pages are scanned simultaneously.
- Gentle Attention Light
Notification in the form of light when a document has been printed
- Security Features (Stored Data, Access Control, Network)
Security features on the MFD that guard the engine from Hacking, Tampering, and Spoofing
Besides the standard features mentioned above, there are additional values in the form of:
- Remote Shutdown
It is possible to turn off the MFD via a remote from Notebook
- Expanded paper versatility (52gsm up to 300 gsm)
- Universal Emphasis Print (Red texts become automatically shaded or underlined)
The function of the printer driver is to change the red writing to black & white with dish / underlined.
This feature is useful for customers who do not want to print colors but still want to highlight important information marked in red.
- Long Paper Printing or Banner Printing (Up to 1,200mm x 320mm, recommended Max 1,200mm x 297mm)
Application in Long Paper Printing or Banner Printing:
a) Financial charts (finance industry)
b) Graph of sensor measurement data and machine diagram images (Manufacturing industry)
c) Graph of well (Oil and Gas) measurement data
d) POS or point of sales (Retail Industry)
e) Posters, Announcements, etc.
Free (Preinstall Software):
- EASY UI (Easy Scan, Easy Fax, Custom Menu)
Easy Scan: Allows you to scan directly to the destination to SMB and Email directly
- Job Log History Export
The machine usage report is in the form of softcopy (.CSV format) through CWIS
- UI Announcement
Customers can enter Image and Posts as ScreenSaver at the MFD UI
Optional:
- Scan Delivery
The scan distribution uses QR / Barcode
- Serverless on Demand Print (SODP)
Print Anywhere solutions for up to 50 devices with the latest functions allow previews on MFD
- Paperless Fax Delivery
Paperless Fax solution that allows incoming faxes to be saved automatically to certain folders (Automatic Generate Folder based on incoming Fax Number)
- Envelope Tray
Tray specifically for envelopes and postcards
- Wireless LAN Kit / Wireless Network Kit
Wifi solution directly from the MFD without the need for a LAN cable so it is more practical
To find out more details about each feature of the MFD ApeosPort / DocuCentre-VII-C Series, you can directly contact Halo Astragraphia in numbers 1500-345 every Monday - Friday, during business hours (06.00 - 18.00 WIB).